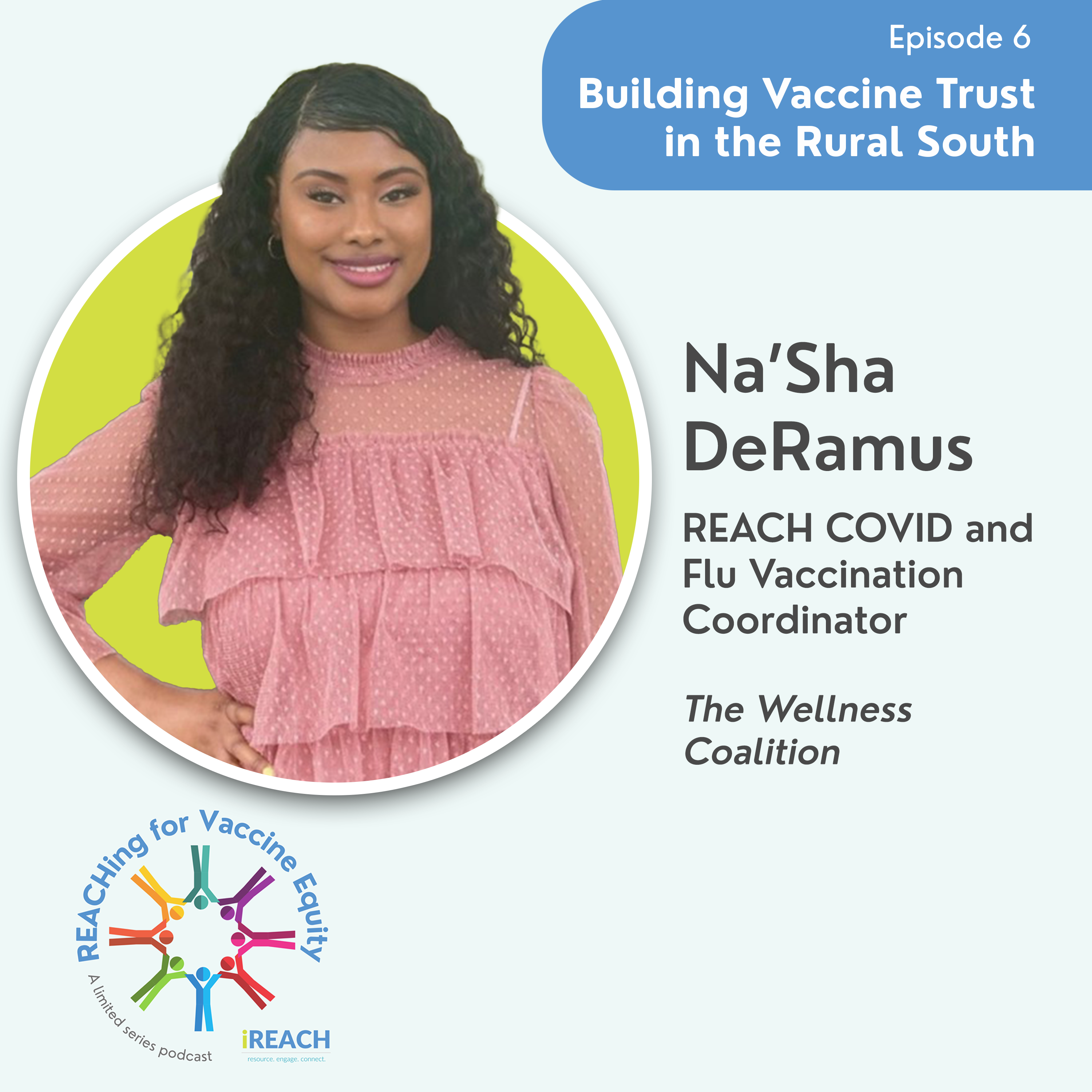 Summary
In this episode of REACHing for Vaccine Equity, learn from a community health leader who addressed generational mistrust of vaccines with education and compassion in rural Alabama. In the "Building Vaccine Trust in the Rural South" episode, hear Na'Sha DeRamus, REACH COVID and Flu Vaccination Coordinator for The Wellness Coalition, share how her team boosted trust in COVID-19 and flu vaccines through outreach and education. This project worked to reach African American adults in Macon, Montgomery, and Lowndes Counties in Alabama to improve vaccine access and vaccine confidence.
In this episode hosted by AIM iREACH project Public Health Consultant Lisa Jacques-Carroll:
Get tips to problem-solve unique challenges of vaccine access, delivery, and implementation in rural communities.
Learn how The Wellness Coalition used trusted messengers and community partners to organize vaccination clinics and collaborate with existing community events.
Get inspired by a shining moment of building relationships in a rural setting to boost confidence in the COVID-19 vaccine.
Hear how The Wellness Coalition leveraged trust in the flu vaccine to raise COVID-19 vaccination rates by lending a listening ear to make people feel comfortable and confident in the safety of the COVID-19 vaccine.
Speaker Bio: Na'Sha DeRamus
Na'Sha DeRamus is from the small town of Billingsley, Alabama. She attended Troy University in Troy, AL, and received her bachelor's degree in Broadcast Journalism and her master's degree in strategic communication. She started working in public health during the COVID-19 pandemic. With her experience in communications, she has connected with community members through transparent conversations and has promoted health and wellness through radio and news interviews. 
Transcript
Dr. Yabo Beysolow 00:48
Welcome to Reaching for Vaccine Equity. We are your hosts. My name is Dr. Yabo.
Lisa Jacques Carroll 00:56
And I'm Lisa Jacque Carroll. In this limited series podcast hosted by the iREACH team at the Nonprofit Association of Immunization Managers. Learn how individuals living with chronic health conditions can thrive with the preventative power of getting vaccinated and adopting healthy behaviors, including nutrition, exercise, and smoking cessation.
Dr. Yabo Beysolow 01:21
Meet REACH community leaders who have success stories to share the challenges they have met and the health inequities they're working to overcome in the diverse communities they serve. We're glad you're here.
Lisa Jacques Carroll 1:38
Hi, I'm your host, Lisa Jacques Carroll. In this episode, we will explore how vaccination can protect vulnerable individuals living in rural areas. I want to welcome our guest, Na'Sha DeRamus from the Wellness Coalition based in Montgomery, Alabama. Na'Sha, I've worked with you over the past two and a half years through the iReach Project, and I'm excited for you to share all of the great work you've been doing to promote flu and Covid-19 vaccination among vulnerable groups in your community. I'm so glad to have you on the show. Welcome.
Na'Sha DeRamus 02:11
Thank you so much for having me.
Lisa Jacques Carroll 02:13
Can you please tell our listeners a little bit about your organization and how the Wellness Coalition works to impact the lives of people in your community?
Na'Sha DeRamus 02:21
The wellness coalitions facilitates a coordinated community-wide system to improve health and wellness of people with limited to no health insurance through collaboration services and education.
Our services are for those who are 19 to 64 years of age. Although we serve everyone in need, we prioritize those who receive moderate to low income. This mostly includes African Americans in Macon, Montgomery, and Lowndes counties as it relates to the racial and ethnic approach to community health project.
A lot of people that we work with are older and they've been in the area for a long time. And it's just a lot of distress here regarding healthcare. And so that's a bit about the community that I work with.
Lisa Jacques Carroll 03:07
And is this a rural community mainly?
Na'Sha DeRamus 03:10
Yes. A very rural community, especially in Macon and Lowndes County, it can be difficult working those areas because healthcare and businesses seem to be widespread. So getting people to one central location can be challenging.
Lisa Jacques Carroll 03:26
What are some of the unique cultural aspects of your community that affects your work?
Na'Sha DeRamus 03:31
I would say we have a very faith-based community. It is rural and most of the population has been in the area most of their lives. The areas also have distrust in the community due to past healthcare trials, so that's another barrier for us.
Lisa Jacques Carroll 03:48
Great. Thank you. What are some of the health inequities that face your community?
Na'Sha DeRamus 03:55
Access to healthcare in the rural areas of Macon and Lowndes County specifically. Also, in those areas, transportation services are very limited.
Lisa Jacques Carroll 04:05
In working with you, I've been inspired by your organization's work to help meet your community's needs. How did you build relationships and foster partnerships in your community to promote flu and Covid 19 vaccination?
Na'Sha DeRamus 04:19
Mainly through outreach meeting organizations where they are in attending health fairs, career fairs, and other community events to network all of the wellness coalitions programs. We conduct a large amount of outreach to local businesses, organizations, and events. We often are invited to partner events, which help us network with new partners and potential partners.
Lisa Jacques Carroll 04:45
Excellent. Thank you. What was one challenge you overcame in your community with regard to flu and COVID vaccination?
Na'Sha DeRamus 04:54
We have overcome a lack of education about vaccines. Initially, when the project started, vaccination numbers at our clinics were low. Now we have been able to foster relationships within the community to have larger numbers. One of our priority areas in Macon County. And that is where Tuskegee is located.
As you know, where the Tuskegee study of untreated syphilis in the Negro male was conducted. The unethical study affects the community by making them understandably leery about outside organizations coming in to provide health information and services.
Lisa Jacques Carroll 05:33
Sounds like you're doing a great job of building trust in your community.
Na'Sha DeRamus 05:37
Yes, thank you so much.
Lisa Jacques Carroll 05:39
Did you work with trusted leaders or messengers in your community to promote flu and covid vaccination? And what surprised you about working with them?
Na'Sha DeRamus 05:48
Yes. So our trusted messengers have done a great job supporting the project they have attended and even donated to our vaccination events. Our trusted messengers ranged from faith-based leaders to nonprofit leaders to an NBA player from one of our areas he was a resident in.
Lisa Jacques Carroll 06:07
Excellent. How have flu and covid vaccines been accepted in your community?
Na'Sha DeRamus 06:13
I would say our communities are more accepting of taking the COVID-19 vaccine versus the flu vaccine. We hear many stories about the flu vaccine making people sick or not trusting it because they received the vaccine and got influenza shortly afterward. We hear a few similar stories regarding COVID-19 vaccine, but it doesn't amount to what we hear about the flu vaccine.
We see more people receive a flu shot when we have our work site clinics and we also see more co-administration there as well.
Lisa Jacques Carroll 06:48
Excellent, great initiatives. Na'Sha, what's a shining moment in your work during the pandemic?
Na'Sha DeRamus 06:56
My Shining moment has been able to build relationships with the Tuskegee community through health fairs, education, and vaccination clinics. Everyone is always so welcoming to us, and we love for them to call on us as much as we call on them to assist in vaccination uptake in all-around health. Honestly.
Lisa Jacques Carroll 07:16
Excellent. What's something that you'll remember most about your work during the pandemic?
Na'Sha DeRamus 07:23
I will mainly remember talking with the community about their concerns and just being a listening ear. My goal is to make everyone receiving a vaccine feel comfortable, or at least have it in their head that, you know, the vaccine is safe for them. So I just wanna provide that education in that outlet for them.
Lisa Jacques Carroll 07:42
I'd love to hear how your organization has worked on vaccine and health equity in your community. Can you tell us about the vaccination clinics for flu and COVID-19 vaccines that you've organized in your community, and then the types of locations where they've been held?
Na'Sha DeRamus 07:59
Yes. So we have organized vaccination clinics at many local churches in all three of our priority areas of Macon, Montgomery, and Lowndes. We've had vaccination clinics in Montgomery at car part manufacturing work sites, as well as a printing work site. health fairs and community events, such as the Taste of the Wild in Macon county, which was a very interesting event. We had a vaccination clinic, and it was successful.
We do not shy away from family events because we know that families attend community events together. We've also had a vaccination clinic at a senior living apartment complex because many of them don't have transportation. So we went to them and it was a great turnout and we just loved interacting with them as well.
Lisa Jacques Carroll 08:44
Na'Sha, what has been one of your biggest challenges with this work?
Na'Sha DeRamus 08:49
I would say, at first, getting into Macon County to provide our vaccination clinics in education because the community is still very leery about The Tuskegee study of untreated syphilis. So we just wanted to make sure that they trusted us when we got in, you know, into the community to provide our services.
So we worked with a lot of community partners and just, you know, showed and told them what we were doing and provided education to them and just let them know that we, what we're doing is not something that will harm anyone and that we just wanna be a part of the community and provide them with all of the services that the Wellness Coalition has.
Lisa Jacques Carroll 09:29
And were those strategies effective?
Na'Sha DeRamus 09:32
Yes. Now we attend Macon County a lot. We have many events coming up in the area for all of our programs here at the Wellness Coalition, and we have really good turnouts. So we've built a really great rapport with partners as well as the community.
Lisa Jacques Carroll 09:48
Awesome. It sounds like all of your hard work is paying off.
I love hearing about all the creative approaches you're using to reach your community with vaccination. Are there access issues in your community since it is a rural area for people to get to these clinic sites?
Na'Sha DeRamus 10:07
I would say yes. We do have a bus system here in Montgomery, but there's not a huge bus system in Lowndes and Macon County. And those are very rural areas, so people are, you know, mostly having to walk places sometimes or just get rides with some of their friends or family members. So that's why when they have community events, we know that mainly those people are going to be at those events.
And so we try to provide those vaccination clinics there so that, you know, it's a one-stop shop for them.
Lisa Jacques Carroll 10:39
Perfect. Thank you. Can you share one of your favorite moments when you feel you've connected with someone to make a difference in promoting flu and COVID vaccination?
Na'Sha DeRamus 10:52
Yes. So on several occasions, I've had to provide facts about the Covid 19 vaccine, regarding questions about the ingredients and the side effects. I feel connected because I was one of the first people in my family to actually receive the Covid 19 vaccine, and I was nervous, but I'm able to let people know that I was fine, even though I had flu-like symptoms after receiving my second dose.
Lisa Jacques Carroll 11:16
Na'Sha, is there a story from your work that will stick with you?
Na'Sha DeRamus 11:20
Yes, it is. At an event, at a family-oriented event where we had a vaccination clinic. I had an older lady ask me were people being tracked with the COVID-19 vaccines? Because we know that there was a myth out that said that there was a chip in the vaccines and that the government was tracking everyone who received it.
And I just let her know. That there is no chip in the vaccine. No one is putting anything, you know, in her arm to track her. And I honestly just said, you know, our cell phones are the main thing that tracks what we're doing. But I just wanted to let her know that she should not be worried about being tracked with the vaccine.
But that was one of her concerns. So I just wanted to provide her with comfort during that moment.
Lisa Jacques Carroll 12:07
Excellent. It has been challenging during this pandemic, all of the misinformation that people have been hearing and seeing, and so it's great that you're, you have that trust with your community. You to be able to address those concerns.
Na'Sha DeRamus 12:21
Yes, thank you. And I've heard so much in our community, so that's why education is a really big part of what we do. Of course, we do vaccination clinics, but we wanna make sure we educate people so that they do feel comfortable receiving a vaccine.
Lisa Jacques Carroll 12:36
It's great that you're able to build that trust with your community members and lead by example.
Na'Sha DeRamus 12:42
Yes. Thank you.
Lisa Jacques Carroll 12:43
Moving into thinking about the future and sustaining the great work you've done during the pandemic, how is your organization planning to sustain the vaccine equity work you've done thus far in your community?
Na'Sha DeRamus 12:56
We are planning to continue education and working with faith-based organizations and work sites to provide clinics. Because we've been in the community so much, we've had churches in those work sites reach out to us more than we have to reach out to them for vaccination clinics.
So we have a standing relationship with certain churches as well as the car part manufacturing company here in Montgomery.
Lisa Jacques Carroll 13:21
Sounds like you've developed some really strong relationships with your partners.
Na'Sha DeRamus 13:26
Yes, we really have.
Lisa Jacques Carroll 13:28
That's, that's excellent. How do you plan on maintaining a focus on the importance of vaccinations once the pandemic is over?
Na'Sha DeRamus 13:37
Mainly through education and using outreach such as social media, webinars, and presentations for the community.
Lisa Jacques Carroll 13:46
Perfect. Na'Sha, what's one message or story that has inspired your own confidence in vaccines?
Na'Sha DeRamus 13:55
I would have to say my own COVID-19 story. I've had the virus and I didn't feel too terrible because I believe that the vaccine helped me not to have a serious illness. I actually have asthma, which is a respiratory issue, and I feel as though if I wasn't vaccinated, I would have been very sick. For instance, I've had sinus infections that have made me sicker than when I've had COVID-19.
Lisa Jacques Carroll 14:18
Thank you for sharing your story. What is one thing that keeps you returning to this work daily?
Na'Sha DeRamus 14:26
Just being able to work in the community and educate my community. I believe that because I am African American, our priority population is more trusting of me, especially given the past medical history in the US, especially in Tuskegee, Alabama.
Lisa Jacques Carroll 14:40
Excellent. Thank you so much, Na'Sha I've really enjoyed hearing about all of the incredible work you're doing in your community to build trust and increase access to vaccines and taking into account the unique challenges of a rural area. It's been great chatting with you today.
Na'Sha DeRamus 14:58
Thank you so much for having me again.