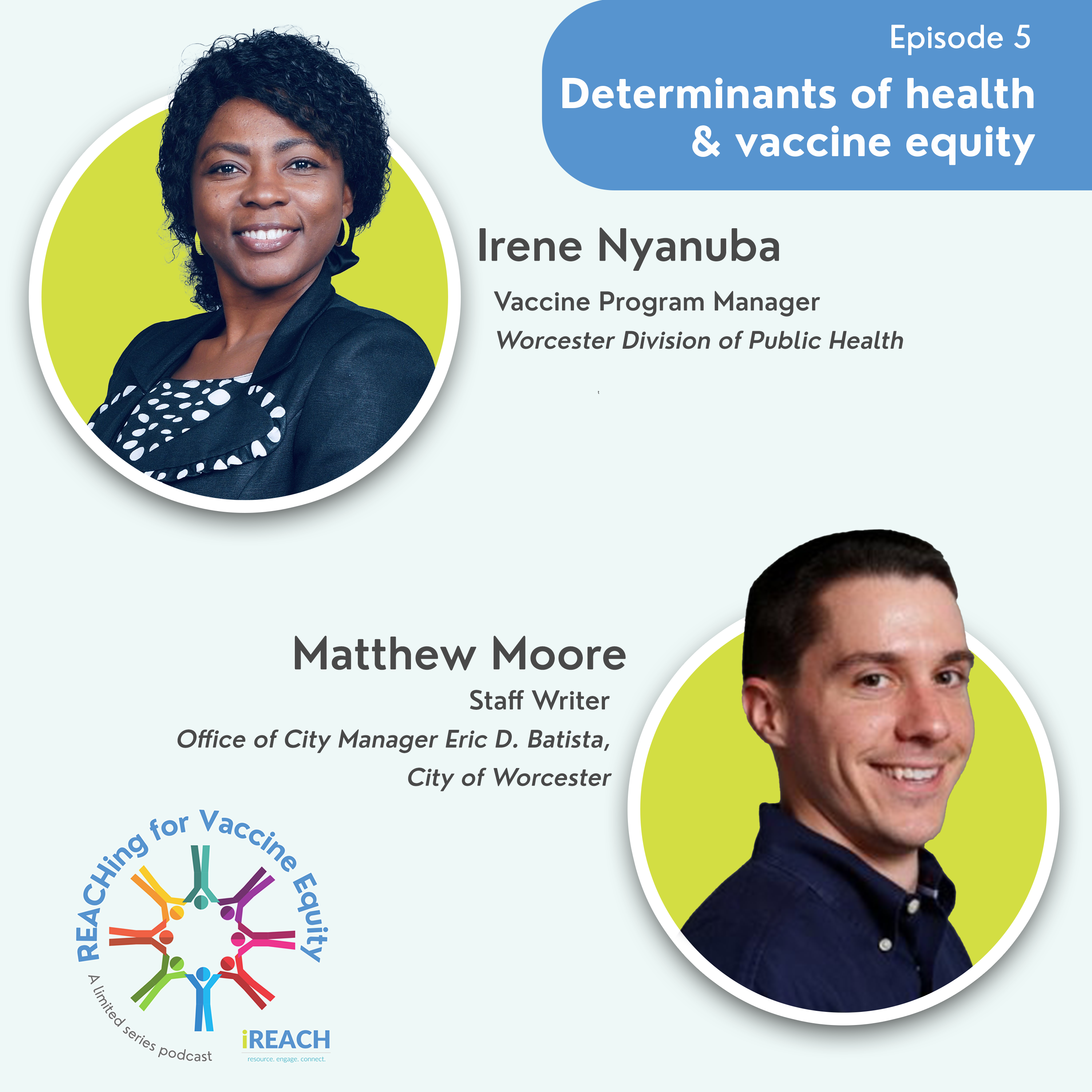 Summary
In this episode of REACHing for Vaccine Equity, learn how one COVID-19 and flu vaccination program tackled disease prevention, grew healthcare access, and improved vaccine equity in a cross-city effort. In the "Determinants of Health & Vaccine Equity" episode, hear Irene Nfaazie Nyanuba, Vaccine Program Manager at Worcester Division of Public Health, and Matthew Moore, Staff Writer at the City of Worcester, share how they worked together to reach people across the city of Worcester, including underserved populations of various racial/ethnic communities and pockets of immigrant populations, including those from Ghana. This project worked within faith communities to impact obesity and hypertension prevention while improving access to and trust in vaccines.
In this episode hosted by AIM iREACH project Public Health Consultant Dr. Yabo Beysolow:
Get inspiration from this group effort that spanned the entire city, wrapping their arms around the complex subcommunities of the population and creating novel solutions to reach them.
Hear how the program confronted 

misinformation about the COVID-19 vaccine in the community

.
Explore how building trusted relationships is critical to improving vaccine equity.
Learn how "meeting people where they are" was vital in reaching African American and African Immigrant communities for this project to improve COVID-19 and flu vaccination confidence.
Speaker Bio: Irene Nfaazie Nyanuba
Irene has worked as a public health professional for over 15 years, and her expertise includes community nutrition, disease control, and health promotion. She served as the District Nutrition Officer, HIV Coordinator, and Health Promotion Officer, where she led projects to reduce maternal and child malnutrition, chronic nutrition-related diseases, and maternal-to-child HIV transmission. She has also led immunizations and HIV stigma reduction campaigns. In addition, she has facilitated many workshops to build the capacity of community members to support infection prevention, food demonstration, exercise, and healthy lifestyle modification. As Worcester's Division of Public Health Racial and Ethnic Approaches to Community Health (REACH) Vaccine Program Manager, Irene works closely with community partners to increase vaccine knowledge and provide vaccination opportunities among Hispanic, Latino, and other underrepresented and at-risk populations facing health disparities and inequities.
In addition, she focuses on integrating vaccine education with different expressed health needs of the community, such as hypertension, diabetes, and physical exercise, to increase awareness of the cross-impact of vaccination and other diseases. Irene has a diploma in Community Health (Nutrition and Disease Control), a Bachelor of Science in Community Nutrition, and recently graduated from Clark University with a Master's in Health Science, Community, and Global Health.
Speaker Bio: Matthew Moore
Matthew Moore is the Staff Writer in the Office of City Manager Eric D. Batista, City of Worcester. He supports the City Manager's speaking engagements, city-wide internal communications, and storytelling campaigns while managing the Worcester Division of Public Health's (WDPH) communications initiatives. Matthew joined the City Manager's Office in 2023 after serving as WDPH Communications Specialist since 2021, where he launched the division's regional newsletter and redesigned the City's COVID-19 data dashboard. Before working for the City of Worcester, Matthew was Communications Coordinator to Dean Bess Marcus and later Dean Ashish Jha at the Brown University School of Public Health. Matthew is a native of the Boston area and has over 15 years of professional communications experience. He holds a Bachelor of Arts in History from the College of the Holy Cross and a Master of Science in Nutrition from the Friedman School of Nutrition Science and Policy at Tufts University. He also serves on the Programs Committee for Community Harvest Project in Grafton.
Transcript
Dr. Yabo Beysolow 00:48
Hello, I'm your host, Dr. Yabo Beysalow, and on today's episode, we'll be exploring how the Division of Public Health in the city of Wooster, Massachusetts, is addressing chronic health conditions such as obesity and hypertension as well as promoting COVID and flu vaccinations in their communities and building partnerships.
I would love to welcome our guest today, Irene Nyanuba, Vaccine Program Manager, the Wooster Division of Public Health, and the iREACH program. And also Matthew Moore, Communications Officer for the City Manager of the City of Wooster, based in Wooster, Massachusetts.
I've worked with your team over the past two and a half years during this iREACH project, and I'm so excited for you to share all the great work that you've been doing to promote not only flu and COVID-19 vaccinations in your communities but also hear about the projects that you've instituted to combat both hypertension and obesity.
So Irene and Matthew, thank you. I'm so glad you're on the show. Welcome.
Irene Nyanuba 02:38
Thank you.
Matt Moore 02:39
Thank you for having us.
Dr. Yabo Beysolow 02:41
Awesome. So this question is for both Irene and Matt, and we'll start with you, Irene. Can you please tell our listeners just a little bit about your organization um, how the Wooster Division of Public Health works to impact the lives of people in your community?
Irene Nyanuba 02:55
The Division of Public Health is the division under Human and Health Services, and fortunately, it's also one of the few places that were given the grant REACH to help work with racial equity approach to health. And so with data and strategic planning, mostly with community partners, we are able to bring services to people.
For instance, with the COVID-19, we look at the whole social determinants of health, and we know the hypertension and diabetes was, is very – it's one of the reasons why COVID was dangerous or devastating to the public. So our, our strategy was then to incorporate that, integrate COVID and nutrition approach to support people in their community.
Dr. Yabo Beysolow 03:53
Great. Great. And also Matt can you share some light on that as well?
Matt Moore 03:59
Sure. So Irene mentioned the social determinants of health, and that's a great approach that the division is taking. The division is one of the partners in the community health improvement program and community health assessments across Wooster and Greater Wooster actually and those sort of take an upstream approach.
So you're looking at those bigger issues that are leading to health problems, such as whether it's obesity, hypertension, and other chronic health issues. And sort of approaching it from that way as opposed to you know, one-off reactive policies.
It's more about preventative. And another great thing is that it's a group effort across the city. So you have the Commission of Health and Human Services in addition to the division as well as the mayor and city manager, Board of Health, city council, all working together and on the same page looking at things like the social determinants of health.
And from my end, the communications aspect is both sort of telling our story and getting the news out there about what Wooster's working on as well as reaching out to the community. Whether it's working with community partners on flyers and event promotion working with media, but basically getting the information that people need to know and how they like to absorb it.
Dr. Yabo Beysolow 04:58
Great. So you've both given us just that overview of the work of the Division of Public Health in Wooster. But tell us a little bit more about Wooster itself, about the community that you specifically work with.
Matt Moore 05:11
Sure. One of the great things about Wooster is its diversity. It's a city of just over 200,000 people and about, and these are rough estimates, but about 50% of the population is white. 25% of the population is Hispanic. About 14% is black and around 7% is Asian. And then you have many, many other ethnicities and subpopulations in those groups broken down.
We have a great Muslim community, Jewish communities, different religions, different cultures and then dozens of different languages spoken. And that's generational, too. That's everything from the public schools all the way up to the elder population.
So it's a great, rich diversity. Makes it a great experience. But that also leads to different questions about communications, about how you reach all those people and get the information out. And that's where some of our community partnerships come in that I know Irene and I will get into later.
But it helps because we know a lot of people don't always utilize sort of the typical channels. Like city social media, maybe they don't subscribe to certain newspapers. So it takes a lot of work of working with community partners, working with translations, different cultural publications, and radio shows.
So it's a lot of work, but it, it definitely is rewarding.
Dr. Yabo Beysolow 06:19
That is great. And Irene anything to add about the communities that you work with?
Irene Nyanuba 06:25
Yes. Matthew has said a lot, so I'll look at the implementation-like outlook of it. Because when you look at the group in four, but you go into the Black community, and it's different groups because Wooster is very friendly to immigrants, so we have different immigrant population.
And when you even get in there, for instance, Africa, we have Ghanaian community, Kenyan community. So each group that you pick, you see layers. And you have to recognize that to strategize effectively, to rate them. One thing, for instance, is the faiths. Matthew mentioned Muslim group, we also have a large population who are identified as Christians. And so all this dynamic will make, even Ghanaians, you have to find out where they meet. And so some will meet in one particular Catholic church, others will go to Presbyterian or Pentecostal. So you have to look at all these sap layers of the population to be able to reach them.
Dr. Yabo Beysolow 07:29
Wow. So both of you have definitely laid out the layers there. As you mentioned, the complexities and challenges that come along with being able to message to all of the various communities. But it seems that you've been doing a great job doing that though. So tell me again a little bit about how the Wooster Division of Public Health has worked to impact the lives of all those populations in your community.
Irene Nyanuba 07:54
Yes. Over the years we've relied heavily on our health system and our own community strategies to reach people, but then, it is become more and more obvious that you have to look at data through the lens of racial equity. And in doing so, we saw who were those coming to facilities and who were not coming and why?
Was there any way we could reach or get closer to them or remove some of these barriers that is preventing some of the communities from assessing health delivery? And since we started that, we realized that one of the way to help with the barriers, because we can solve all of it at once, was to strengthen partnership.
You bring more and more people, at least as many as possible. Each group should have a representative that have constant interaction with the health system or health organization to be able to have constant dialogue and to meet them at where they are.
And data that really helped was the community health assessment. It helped to understand the system. And then with that, we developed the strategy with the chart. And that one at least each time is renewed. It, it gives clear recommendation where to tackle first. And so that informs a lot as to some of the barriers that are preventing some communities from assessing health delivery and how we can meet them to support them. Systemic support as well as individual structural capacity building for them to be able to engage in health activities.
Matt Moore 09:46
So I think one of the things that the pandemic brought to light was, with different aspects of the community, sort of realizing what emergency it was and coming together to make sure people were okay, whether it was to get vaccinated, whether they were isolating if needed. And basically, any precautions to take was just learning about the different types of misinformation coming out, disinformation, a lack of trust surfaced.
And even if it wasn't a formal community health assessment, just having conversations with people and learning, you know, why they wouldn't wanna get vaccinated or why they wouldn't believe that a mask might help. And you know, even though that's sort of a sample size of one it really sheds light on different cultures, different opinions, how they get their information, who they may be listening to, who they may trust.
And so it showed different ways about leveraging community partners, trusted messengers to deliver that information for us. So we had a great system of compiling information, compiling scientifically sound information. But it all wasn't reaching everybody. So sort of re-examining our own processes and also realizing that the community could help us build our own capacity. So there may have been, for example, the Latino Education Institute. They were on the ground delivering health information and able to do that when city employees just didn't have the capacity to do that.
Building those relationships was a huge help. And uh, sort of building out our messenger network, who could also give us feedback and help us tailor our materials or help us find the right channels to reach different aspects of the population.
Dr. Yabo Beysolow 11:11
Great. I'm so glad you touched on that and I'll expand that question and you know, go back to Irene again, just how you build those relationships and foster partnerships in community. You mentioned a Community Health Assessment. Was the community involved in that?
Irene Nyanuba 11:27
Yes. The whole Community Health Assessment was to make it such that is the community's voice. They are expressing their experiences, and based on that, we can strategize relevant interventions that they will want to take part in. So it's usually across board. Community members are invited, surveys are done, a focal group across board to get as many response done as possible to draw that document.
We are in the process of doing a new one. We have to always evaluate that and so, the process has already started and we are already thinking through how much we can get community members to respond. So it's always very important. And in terms of the partnership, fortunately, there were already some established partnership, but as I said it, we realized some communities were not joining in and those communities, we had to intentionally invite them.
And so, community entry, proper community entry, was one of the tools we were using where we seek for appointment to meet leaders of a community. For instance, if it's a faith-based, a church, the pastor, and then when we get there, through our conversation, we are able to tell the structures, the church, the pastor, really the leader of the church, or the other people to go through.
And then also in the conversation, they bring out their health need. And so as we talk about their the things they need and they realize, yes, this is where we can partner to work together. Then, that barrier of health organizations over there and we are over there is broken, and so that intentionally to get to them at where they are, have the conversation of "Can we work together?"
Has opened our eyes to that. They really are ready. But some of them don't know how to come forward and we didn't also, earlier on, invite them this way. But now that we are breaching that, we've had many across board, especially with the REACH program, many across board. The representation is beautiful asset stand now.
And we know with this foundation, we can reach more and more group that are not also yet on the table.
Dr. Yabo Beysolow 14:03
That is very exciting, the intentionality of that. Matt, anything more to add regarding your partnerships? You mentioned with a Hispanic organization, but just the partnership to develop messaging and communication materials?
Matt Moore 14:17
Sure. I think it's uh, a great bidirectional relationship where we, like I mentioned, we have sort of the scientific data or the scientific message that we want to get across. And then working with different partners, we know how to tailor it culturally. Anything from imaging on a flyer, to more familiar language to use, to our, you know, as your community, can they use a QR code? Or do they prefer having printed information? Do they like going to the website? So basically creating as many different options and working with our partners to get feedback from them about what's the most effective way to deliver messaging. And one thing I, I'll just add about some of the, the community health assessments is that it also helps us discover at a higher level: issues of concern such as obesity, hypertension any, anything related to sort of nutrition and food access.
And then we're able to, both through REACH and our community partners, also explore different ways to approach those. So it is a huge help with vaccination, but it's also a way that we're uncovering health disparities in other issues because that those assessments also break down by demographic.
So it helps us prepare, develop messaging and tools. And then in our work with community groups, so if they know that their group, in particular, is at risk of hypertension, we're ready to pivot to that and help them with that.
Dr. Yabo Beysolow 15:32
Excellent. That's a great segue into my next question. You've discussed some of those health inequities that face your communities. So Irene, could you share some light on how you have worked to address those? Matt mentioned hypertension and obesity, and how you've tied that in, not only working with them but tie that into your vaccination efforts.
Irene Nyanuba 15:51
Yes. Um, at the office level with the team that we work together, there's the other part of REACH that focuses on, as Matthew earlier said, the upstream approach where we look at making the system strong to help people make the choices that are healthy for them.
So, for instance, we have the built-in environment program where communities come together to do work, edit audits, and then look at their community, how they can make it walking friendly, and then use those recommendation from the community to help improve their section and then sometimes even support them with a pack.
Build a pack so that you can encourage walking around. And then with the with nutrition, we have, with program with various um, food pantries where we support them. There is this project to assess their type of food that are even coming in to rate it to see if it's just giving people just carbohydrate or we are having other things like vegetables and food to support as well.
And in terms of hypertension, diabetes, we recognize as the data will tell you, that our population of interest, Blacks and other people, Hispanic and other groups of minority suffer from this condition a lot. And so aside building the structures, we are also looking at the education aspect because, in a fieldwork and interaction, we got to know that when immigrants come into America, some of the food they are used to are not available. And so they jump onto other new food and how to manage it becomes a problem. So one of the things we do is to support with the food demonstration so that you know what goes into your plate and at the end of the day, what items you would've made sure you eat.
And so, aside delivering COVID information, we saw that if people are telling us they have interest in hypertension, diabetes, then we have to bring in all these other aspects together so that when we go, we give a comprehensive education. So in terms of message delivery, when we get to community setup, apart from the food demonstration, we also teach simple exercises that you can do to relieve stress and also to help your body muscles and joints and even cardio.
And so uh, we've added all these things together to be able to address most of these problems that we know are disturbing our population of interest.
Dr. Yabo Beysolow 18:52
Thank you. You mentioned a lot of great work there. The walking program, I think I heard you say. Food demonstrations, education about healthy food, so just some great work there.
Let's switch a little bit and talk about the COVID and flu vaccination clinics. And I'll start with you Matt, if you could share some specifics about the clinics that have been organized in your communities.
Matt Moore 19:15
Sure. I mentioned earlier, sort of the joint or the group effort that we've had, and how that's not only community partners within Wooster, but we've had a great relationship with the State Department of Public Health. So they have been partners throughout and helped us establish both through the Stop the Spread programs as well as just working directly with us and providing sort of contracted vaccine providers helping us set up these clinics.
So it was great cuz we didn't have to go this alone. We did have our own vaccine team as well. So we had our public health nursing team that obviously jumped in right away with the, as soon as vaccines were available. And we hosted clinics sort of had a dual approach.
One was to have standing clinics in public central locations where people could easily get to. Or places that they'd be sort of visiting anyway. So that included the Wooster Public Library, as well as a downtown clinic and a building that UMass Memorial Health can host various programming in. So they were set up for clinics.
The YMCA was another place that people frequented on Main Street. So that was a great place to, to be centrally located. And another thing we were able to do was have one-off clinics across the city.
So not only did we have standing locations that people could come to, but we also went out to residents where we knew that they may not have the easiest access to these standing locations. So that included places like setting up temporary clinics at the Wooster Senior Center, at faith-based organizations from the Wooster Islamic Center to specific churches and, we were fortunate. Um, and again, another great public-private partnership was to acquire a mobile van. So that can be used to deliver services in general, but it was outfitted specifically for vaccination. So we could literally drive up to whether it was an apartment complex, a supermarket, or a different places throughout Wooster cuz it is a, a huge city, and be able to deliver vaccines on-site to where people may not be able to acquire them or may not even be aware of the standing clinics that we have, so we're able to literally drive up to them and provide vaccines.
Dr. Yabo Beysolow 21:12
That is great. So just a wide array of delivery methods, but it seems like you were listening to the needs of your community. Both of you have shared a lot of work on that lot of insight. So Irene, how do you think flu and COVID vaccines have been accepted in your community?
Irene Nyanuba 21:29
I think based on where we started from and where we are now, there've been much improvement. We are not done completely. We can't claim hundred percent as of now. It's about 78% who have taken at least one dose, and that is a good number, especially with the Black and Hispanic population. In the beginning, the gap was very wide.
So over time, the. The gap closed up a bit. And so where we stand, especially with those who have been in the field and have experienced the refusal, and later on the clinics were being followed by this group of people that we have been monitoring to see whether they're coming to the clinic or not.
We are excited of that, and we think we have started a foundation that we can build on. One particular thing was to go to a church, for instance, and there's refusal. But after education, a discussion with them, and gets 33 people to accept and even go to some of the stand-in clinic, and then, then next day, someone will come in, "Oh, yesterday you came to a church. I've decided to come and take the vaccine."
And then those are the things that makes you feel like, okay, the messages are going and people are hearing you. And so they are responding to getting the vaccine. And so if, if you look at the early stages, the misconception, especially with the Black population, I was in a clinic and two times when, because I was translating for Ghanaian language, two times, two people asked me, "Why is this vaccine separated for just us?"
You know? And I had to explain before they got the vaccine. So to get this concept and get into the community and hear people say, "Oh, the, the vaccine is meant to kill us Blacks," and later on see Black people come in and come in. Meaning our explanation was working and as Matthew kept stressing, it was the partnership approach when we going to sit down, educate the community members, they take it on and they talk to other members of their family to also understand and come in. Because when we did our exit interview from the clinic kept showing that word of mouth was the number one carrier of our messages, meaning community members were very, very involved in explaining to their family members and friends to come in and, and get vaccinated.
So, where we stand, we think a lot has been done and Wooster has accepted it better than we started.
Dr. Yabo Beysolow 24:31
Thanks to all of the hard work that all of your teams have put in to increase vaccination rates. And like you mentioned, those one-on-one conversations are vital, and word of mouth. So wanted to, you know, again, pivot and go back to some of the projects that you mentioned that you have in place to combat obesity and hypertension.
Did you at any time combine that with your work on vaccinations?
Irene Nyanuba 24:59
Yes. We did that a lot in the beginning. We had even started information on, okay, continue because of the lockdown. Other things say, get back into walking. Drink your water, eat your fruit. We had even started that, but then the more the people were showing signs of COVID information fatigue, the more we had to be more creative as how we we deliver.
And fortunately for us, one of our LA clinics that was successful and that partnership became stronger right on the onset. That is what one particular church, Shepherd Methodist Church, they quickly told us our problem is hypertension and diabetes. It's a Ghanaian community test.
So we had to do um, an event to address that, first of all, to show that we don't, we are not only here for COVID. We care for you in a whole where your health is concerned. And also to continue to carry the COVID information whilst addressing other serious illnesses that are impacting COVID as well.
And so we combine these, and they gave us two days workshop with them there as part of their Mother's Day celebration and we went in there. We did food demonstration with various vegetables in the US that you can replace successfully with Ghanaian vegetables. Green vegetables that they know. And then we spoke about other habits snacking habits and other things that are contributing to the poor health we are experiencing.
And afterwards, we, we did a presentation on the Sunday and there were a lot of questions as well, and we incorporated COVID and even vaccination for that day. And so when the whole thing was combined, and how successful it was, we recorded it. And first was to just meet other pastors and show them what our partnership means coming into your church.
But it turned out that interest was bigger than we thought. People like it, and that means we had to do more. And so our partners, the Latino Educational Institute. We encourage them with their structure to continue to combine nutrition and other things and COVID information as part of their outreach. They kept doing that, and other partners were also encouraged as well. So that has been one of the approach we have used, and we think it has been very successful.
Dr. Yabo Beysolow 27:55
Thanks, Irene. You know a lot of good information there about how you combine that and I wanted to ask Matt to tell us a little bit more about combining the messaging.
Matt Moore 28:05
So I think there were, there were two things. One is like Irene mentioned, we recorded this event, and it turned into more than just a quick snippet. We wound up coming together as almost like a mini-documentary, and we were able to tell a story from basically start to finish. Not to say that we're finished because we're still working closely with the church, but how it began due to the pandemic uh, sort of entry into the community, and then how that expanded eventually to this Mother's Day event that was focused on hypertension food demonstrations and how to eat how to eat more healthy.
And again, it was a great example where we had cable services, another city team helping us out. We had people from the City Manager's office as well as the Division of Public Health recording videos. The church had a communications person who was recording videos from different members of the community, and we were able to capture people, everyone from the pastor to everyday people in the congregation sharing their stories and the importance of it to them.
And I think capturing those testimonials, it's not just the city saying, this is how you should eat. This is how you can be healthy, but it's people who went through these demonstrations, went through the event, and talked about how much it meant to them and how not only personally it impacted them, but also the value that they saw in the community.
And now we're able to take that mini-documentary and share it through Irene's Church Initiative different faith-based organizations, but also other community partners to show that how we can work with them. And it's almost just a great case study as to, you know, it, it's public health isn't just the pandemic.
Even though we started some relationships or strengthen different relationships because of the pandemic, we were able to then focus on other public health issues and really, really build trust and a relationship with different communities. Uh, and again, I think the, the other thing that we did was just taking feedback from the community partners about, you know, topics that they were interested in and then were able to weave different messaging together.
And whether it's building different events or talks that Irene and other members of the division give, being able to make the connection and showing that, again, public health is more than the pandemic and that it includes chronic issues that people may not have recognized as public health. So just sort of general messaging too. It's an opportunity to speak more to those issues.
Dr. Yabo Beysolow 30:14
Great, thank you both. You've really outlined just the great work that you're doing. And I'll start with Irene, how do you plan on sustaining all this great work on vaccine equity work as well as promoting healthy behaviors?
Irene Nyanuba 30:30
We have drawn a strategic plan for the next three years. And with that strategic plan, we focus on what has worked this far, and we realize that the messaging – every platform is good, but because of how COVID pandemic were more reactionary this time, want to be more relaxed and proactive where we build the relationship and explain the why.
Because we think that when it comes to misinformation, it thrived because there have been some gap between public health and the people. The conversation of the "why." This is the sign that has not been going well for some time. And so if there is problem and you are now coming, someone else has fill in the "why" for them.
And so this time around, our strategy is focusing on education and capacity building where we will do more sit-down conversation and using the contribution of the church group as a measuring mark. We want to ensure that at least each year we would've added this number of new churches into that whole group so that we know with the all group and the new churches, at least each year, they have one or two contact with a health intervention program.
It doesn't have to be COVID or vaccination, but some health intervention program. So as part of the strategy, we are also working with all other partners to make sure that that platform we have created will not be adamant. So it's integrated into the system.
Public health nurse can go in and do something else, and the community can also call in for maybe cancer education. So that interaction. And then we also are looking at the convenient vaccination that happened. People liked it because it is the truth. Vaccines are accepted when it's they have confidence in it when they understand it and when it's also convenient because most people going for vaccine when they are not sick and going to the hospital system is kind of too much for them. So we are looking at how we can still provide some convenient vaccination especially when the seasons are approaching. As part of the strategy plan, we are meeting partners to draw that.
And so I have mentioned the education part and the convenience and then the partnership part. We are also looking at building the capacity of some of the groups to have whatever leadership team they have, to have a representative who focus on health. So that that person will serve as a liaison between health and that group. Because we've realized that those groups that have such individuals, there seems to have more interaction with public health than groups that do not have anybody at all as a health member.
Dr. Yabo Beysolow 33:59
Thank you. Matt, anything to add regarding the future?
Matt Moore 34:03
I would just sort of recap some of the things we mentioned. So the, the community health assessments will definitely be key to our work moving forward. This sort of changed a little bit structurally so that the Division of Public Health is gonna be managing those more directly than in the past. Um, we're building up capacity on that team to be able to develop and tailor those as needed, not only for Wooster but some of the surrounding communities.
Dr. Yabo Beysolow 34:22
That is awesome work. And you know, you've both shared so much and I wanna just get a little bit more personal and ask each of you what is one thing we'll start with you, Matt, that keeps you returning to this work daily.
Matt Moore 34:36
I think it's definitely, it's all about people. And one thing I wanted to mention too, going back to that documentary that we recorded with the Good Shepherd Ghana Methodist Church is not only does the — it was captured by the documentary really well. And also being there at that event was just seeing the the joy of the congregation, the people that were there.
Cause they were, they were happy to be there. They were thrilled to hear from Irene. And also just very welcoming of other people from the vision of public health. So myself, I was there. We had another member of the REACH team. We had our Deputy Director at the time who showed up with her children.
And the community was incredibly welcoming and accepting. And again, just seeing all the joy and the movement, the dancing, the clapping, and singing and chanting, I think that really shows how much of how, you know, public health work can be a lot of fun and very appreciated by different members of the community.
So I think seeing that seeing those kind of outcomes and acceptance is definitely one of the things that keeps me going.
Dr. Yabo Beysolow 35:30
Excellent. Excellent. And you, Irene, same question. Was one thing you returning to this work daily?
Irene Nyanuba 35:37
We do know public health is tough, especially when you deal directly with many different human beings.
But one thing that helps me to keep coming back is whenever we finish an interventional and event, the feedback. When you hear someone you've had the opportunity to interact with, say, "Oh, because of this that you did, this particular aspect of my life has improved." There is no reward better than that. It makes me so happy.
And that keeps me going as though any way I can get to hear someone say that again, maybe not. It's feeding me as the energy that pushed me ahead. Yes, I will do it. And so, yes, with public health, the feedback has been one of the means of encouraging me to keep coming back and doing it again and again.
Dr. Yabo Beysolow 36:42
Well, that is wonderful and thank you so much both Irene and Matthew for all the work that you and your teams continue to do. I've really enjoyed hearing all about the incredible work that you're do in your community to not only build trust, improve health promote vaccinations, and it's been so wonderful chatting with both of you today.
So thank you.
Irene Nyanuba 37:04
Thank you. Thank you for having for having us.