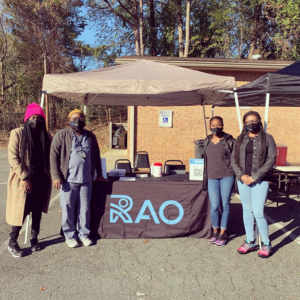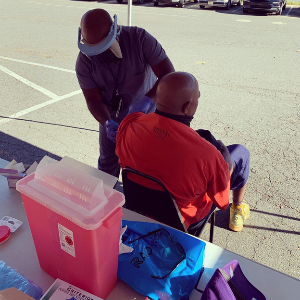 The Pi Phi Chapter of Omega Psi Phi Fraternity Inc., hosted a mobile blood drive with the American Red Cross. RAO Community Health was in attendance giving out free bags (masks, hand sanitizers, flu, and COVID-19 educational materials), along with administering free flu shots sponsored by Avita Pharmacy. A local radio station, Power98, was also in attendance promoting the event and playing music.
This was a free, drive-thru, outside event open to the public. RAO Community Health created a flyer and social media graphics to promote the event. One challenge encountered was that they were met with hesitation and already formed views and opinions from those who were opposed to getting vaccinated. As for successes, they are most proud of administering 13 vaccinations and distributing 100 bags to the public. They were also able to establish a relationship with the fraternity, who they hope to partner with again in the future.
A fun fact about their area is that instead of calling their business district "downtown" like most cities, they call theirs "Uptown." Geographically, that part of the city is located at the highest point of elevation.