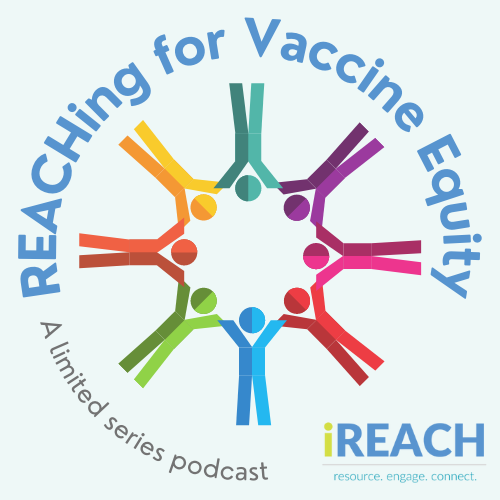 Summary
REACHing for Vaccine Equity is a limited series podcast produced by the iREACH team at AIM. This series of informative episodes discusses how individuals living with chronic health conditions, including heart disease, diabetes, clinical depression, and more, can continue to thrive with the preventative power of getting vaccinated and adopting healthy behaviors. Each episode will provide examples of vaccine equity initiatives for specific health conditions and share tips for community leaders on reaching and supporting diverse communities to achieve health and vaccine equity. Meet iREACH recipients who will share successful strategies they've used in their communities, their challenges, and the health inequities they are working to overcome. The podcast's hosts are AIM iREACH project Public Health Consultants Yabo Beysolow, MD, MPH and Lisa Jacques-Carroll, MSW
AIM is a 501(c)(3) nonprofit dedicated to establishing a nation free of vaccine-preventable diseases and eliminating health disparities. Explore our website for resources to help your community thrive. This podcast series is funded by the Centers for Disease Control and Prevention. All episodes were recorded and produced in 2023.
Host Bio: Yabo Beysolow, MD, MPH
Yabo Beysolow, MD, MPH,  is a pediatrician with over 20 years of experience in private practice and urgent care settings. She is also a public health professional with several years of work experience at the Centers for Disease Control and Prevention, CDC, in the Immunization Services Division, where Dr. Beysolow led as a Medical Officer and subject matter expert on immunizations, assisted in the development of and presented educational content for live, print, web-based, and remote audiences at the local, state and national levels. Dr. Beysolow led the U.S. Childhood Immunization Schedule Working Group from 2011-2014 as the CDC representative to the ACIP (Advisory Committee on Immunization Practices).
Since 2020, Dr. Beysolow has served as an educator and Chair of the EPIC Immunization Advisory Committee for the Georgia Chapter of the American Academy of Pediatrics, educating healthcare providers across the state of Georgia on immunizations and also serves as the Georgia Chapter's Immunization Representative to the National AAP.
Under the umbrella of her consultancy started in 2020, YB Consultants, LLC, Dr. Beysolow currently serves as an Immunization Subject Matter Expert for various national and international organizations, including a CDC-sponsored grant with AIM and CDCs Racial and Ethnic Approaches to Community Health Program (REACH) program. As a consultant, Dr. Beysolow provides technical guidance and expertise on increasing influenza and COVID-19 vaccination rates in racial and ethnic groups experiencing disparities in vaccination rates across the United States in urban and rural communities. Dr. Beysolow also serves as an immunization technical expert for the Immunization Action Coalition (IAC) on their Ask the Experts Column.
Dr. Beysolow is a sought-after speaker on health-related topics. She presents to medical professionals, church groups, and audiences of all types. She is a wife and mother. Dr. Beysolow is actively involved with the Wellness ministry of her church. She has organized and led multiple medical mission trips to Liberia and Angola between 2008 and 2019 to provide free health services.
Host Bio: Lisa Jacques-Carroll, MSW
Lisa Jacques-Carroll, MSW is an independent consultant with over 20 years of immunization experience working at the state, national and international levels. She began her career in Michigan's Immunization Program and later spent six years at the Centers for Disease Control and Prevention (CDC) coordinating the Perinatal Hepatitis B Prevention Program. While living in Kazakhstan for several years, she served as a consultant to the World Health Organization (WHO), providing technical assistance to countries in the European and Western Pacific regions evaluating the introduction of new vaccines. Ms. Jacques-Carroll later worked for CDC's Global Immunization Division coordinating partner activities, and her last CDC assignment was as the deputy program manager for New Mexico's Immunization Program.  
She currently consults for AIM as an immunization subject matter expert supporting the iREACH program and for Immunize.org as their Coalitions Network Project Manager. For global work, she consults for The Task Force for Global Health, supporting hepatitis B and COVID-19 projects, and the WHO Regional Office for Europe, providing technical assistance to countries and supporting regional office activities. She holds a Master's degree in Social Work from Michigan State University and lives in Michigan with her husband and two sons.